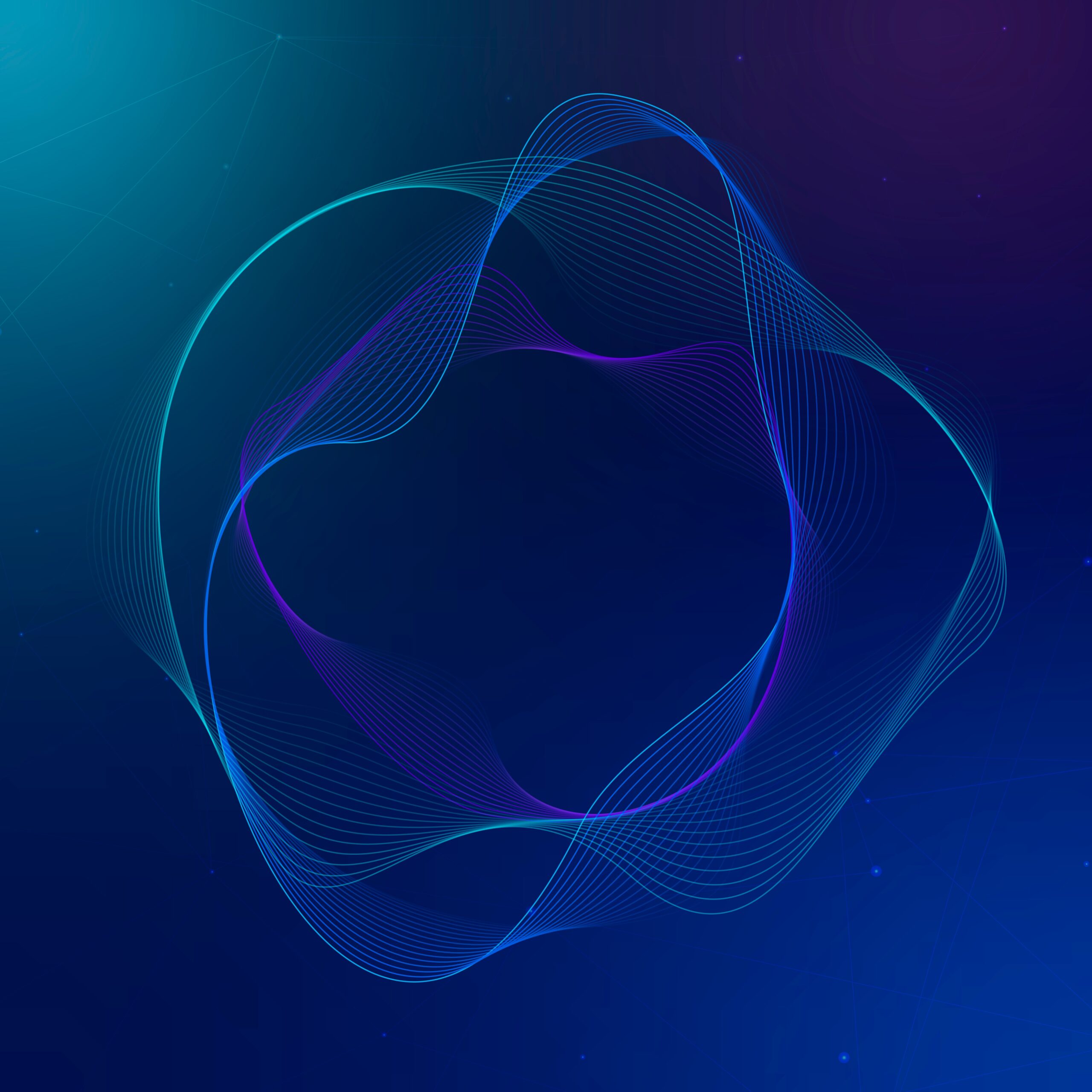 Flow CSV Editor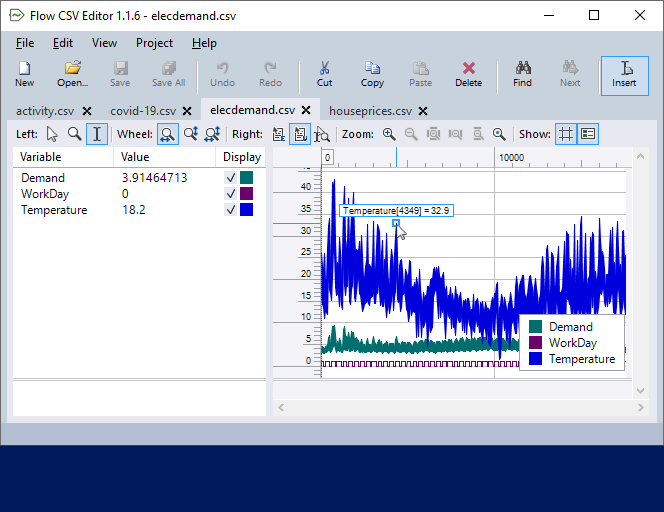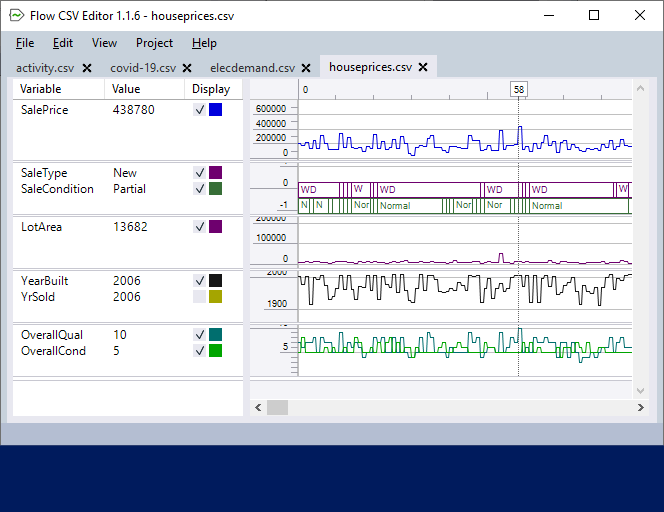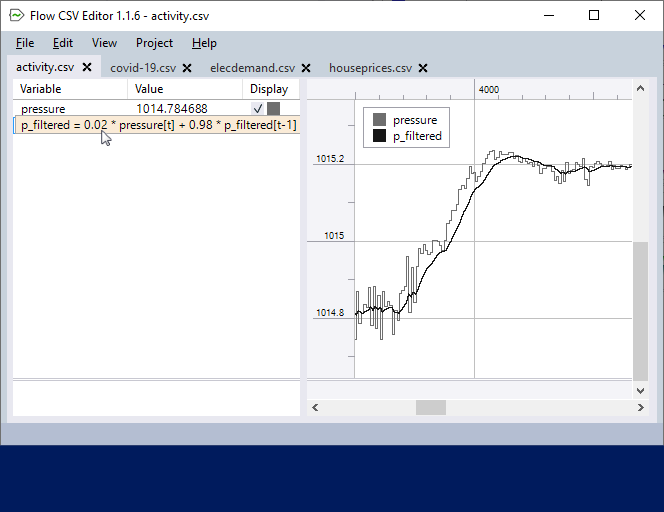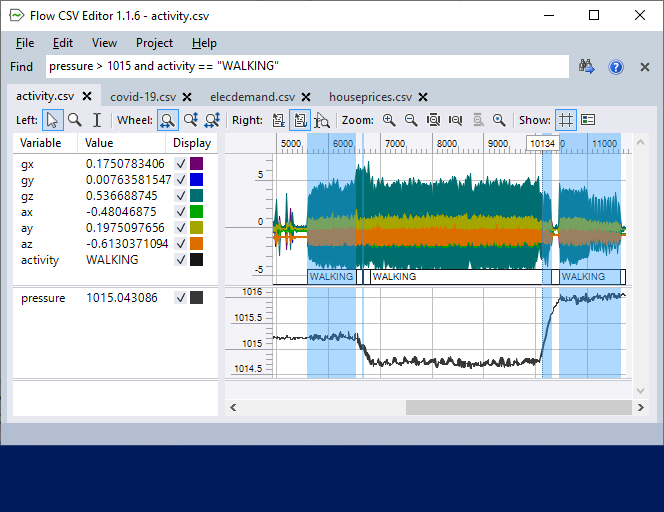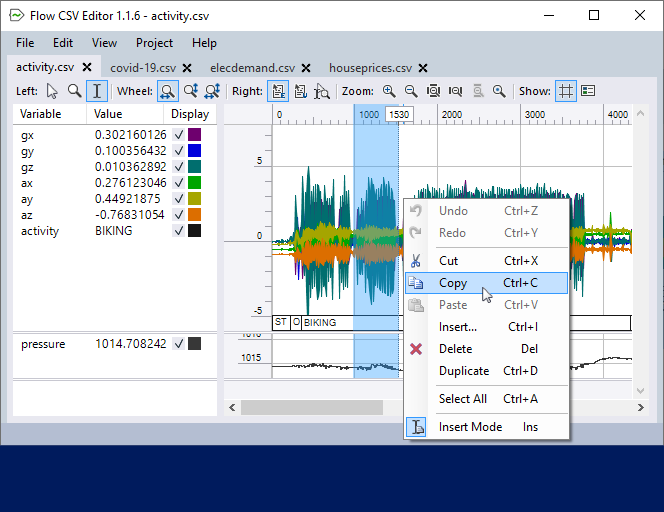 Flow CSV Editor is a light-weight tool for viewing and editing time series data files in CSV format on a Windows computer. It opens all valid CSV files without any dialogs or commands, and its intuitive interface allows the user to start viewing, editing and annotating the data of interest immediately. Data is visualized as line plots, and zooming, scrolling and rearranging the plots is fast and efficient, also on large data sets.
A free version without the editing capabilities, Flow CSV Viewer, is also available.
Benefits
Speed. Flow CSV Viewer and Editor are native desktop applications that run locally on the user's computer. Thanks to thoroughly optimized caching and indexing algorithms, viewing and editing operations are fast and efficient also on large data files.
Usability. The intuitive user interface allows the user to be productive immediately after installation, and it has been constantly improved based on feedback from users since its release in 2019.
Usage statistics (March 2023)
Flow CSV Editor has been installed more than 1.000 times. Flow CSV Viewer has been installed more than 30.000 times.
On an average day, Flow CSV Viewer is started 160 times, while Flow CSV Editor is started 16 times. Application starts are twice as frequent on weekdays, indicating professional usage.
All users who rated Flow CSV Editor on Microsoft Store gave it the top rating 5.
Testimonials
"This tool does everything I want, quickly and easily, and at a ridiculously low price. I had a few questions and found the support to be first class. I cannot recommend this highly enough." – Anthony
"Lightweight and powerful. In short, just perfect." – Christophe
"Hats off to this developer. $7 feels to little for the value you have added and time you have already saved us." – Scott
"This software is brilliant for analysis of time based data in CSV format, and I can't quite believe it's free. Highly recommended!" – Hunter
"A very efficient CSV viewer and editor. I use it to analyze waveforms recorded with an oscilloscope and a datalogger, and it is just perfect for this." – David
"I am blown away by this tool – I love it! It's amazing what you are doing for the community. Keep up the great work!" – Stero
"I just found this great tool! I really love it!" – Zanturo
"I'm using your really excellent Flow CSV Viewer to evaluate the log files of my heating. There is nearly nothing to complain about, with your tool it is really fun to play with a big bunch of data." – Thomas
"Thanks for this great tool, it saved me a lot of time so far!" – David
"Thank you for your amazing and very useful tool. I wish I would have found it earlier!" – Alex
"What a fantastic little gem." – Jakob
"Your application is great! The best I've found to visualize CSV content quickly/easily. We use it to check sensor behaviors and it helps us a lot." – Arnaud
"The viewer is cool! Performance is awesome, too." – Oleksandr
"Very impressed by the formula parsing. Especially the fact that it is possible to write time arguments with different delays." – Arash
Flow CSV Viewer
Open any valid CSV file
Line plot display
Arrange line plots into groups
Print plots and copy plot as image
Simple text search
Advanced boolean expression search
Formula engine based on Python syntax
Flow CSV Editor
Open any valid CSV file
Line plot display
Arrange line plots into groups
Print plots and copy plot as image
Simple text search
Advanced boolean expression search
Formula engine based on Python syntax
Save CSV file
Edit values
Cut, copy and paste samples or data
Remove, reorder and rename variables
Sort samples
Unlimited undo and redo